2021 Special Course Package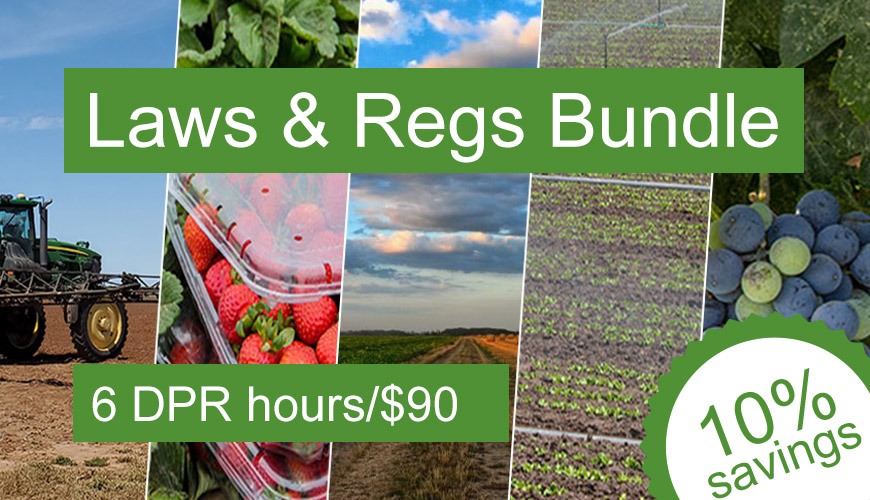 OVERVIEW
By purchasing this bundle, you will have full access to the 5 courses listed. Courses will remain available throughout the calendar year the purchase was made.
Laws & Regs Bundle: 6 DPR hours (4 L&R + 2 Other)/$90 ($10 savings)
Managing Spray Drift, 1 L&R
VOC Regulations, 1 L&R
Pesticide Essentials, 1 L&R, 0.5 Other
CA Groundwater, 0.5 L&R, 0.5 Other
Lepidopterous Pest Mgmt, 0.5 L&R, 1.0 Other
Once the bundle is purchased, return to "Courses" and select any of the courses and proceed to take the course. You will not be asked for payment upon completion.
Sponsor Information
As part of Informa Markets, Farm Progress is the largest, most diversified agriculture information business in North America. Through a robust network of live events, digital products, data, marketing services, broadcasting and local and national publications, Farm Progress enables the nation's most economically significant farmers, growers and ranchers to connect and do business. Our brands include Farm Futures, Farm Progress Show, the nation's largest outdoor farm show, Western Farm Press, Prairie Farmer, BEEF, and many additional. The company serves nearly 80% of the 2 million farms and ranches in the U.S., and an estimated 85% of the nation's annual agricultural gross domestic product. Learn more about Farm Progress at Marketing.FarmProgress.com.