Mandatory Thiobencarb Stewardship - CERTIFICATE ONLY [2021]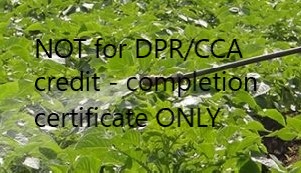 OVERVIEW
This course, sponsored by the California Rice Commission, provides growers with a convenient way to complete their annual Mandatory Thiobencarb Stewardship training for 2021. This course does NOT earn DPR/CCA credit and does not require an exam.
If you wish to earn credit, please take the alternate version of the course: Mandatory Thiobencarb Stewardship 2021
Course Features
Lectures

6

Questions

1

Duration

1 h (approx)
CREDIT INFORMATION
This is a presentation of the live webinar presented by the California Rice Commission on February 19, 2021.
It is the presentation ONLY. You will earn a STEWARDSHIP CERTIFICATE.
There is no exam and you will NOT earn California DPR and/or CCA credit.
If you wish to take the course for DPR/CCA credit, please return to Courses and select Mandatory Thiobencarb Stewardship [2021]
CONTRIBUTORS
This 2021 Mandatory Thiobencarb Stewardship is presented by Roberta Firoved, Industry Affairs Manager with the California Rice Commission, and Scott Bowden, Deputy Agricultural Commissioner and Sealer for Sutter County.
Sponsor Information
Our organization exists to support the 2,500 growers and handlers of rice in California. We help the industry in areas of conservation, legislation, public education and regulation. The Rice Commission is fully funded by industry and operates through oversight by the State Department of Food & Agriculture.